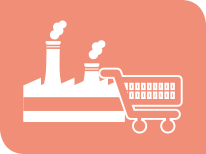 "Delegated supply" for a plant using recycled raw materials
EPR has been selected as the exclusive central purchasing agency for Ecocis, a plant producing high brightness recycled pulp. Its consumption capacity is 200,000 MT/year.
EPR purchases the recycled paper from collection professionals in France and Europe and handles the entire logistics and administrative chain on behalf of Ecocis through a dedicated unit and IT system shared with suppliers.
EPR guarantees supplier payment.
The EPR-ECOCIS partnership has led to the creation of new industrial capacity in France providing recovery professionals with a new outlet for recycling a wide range of paper grades.